Hello,
I wanted to document this build as it represents what I would consider to be almost a "dream machine" in it's day. It uses top quality components across the board and certainly something that would have been a very capable general purpose machine or even a gaming platform at the time.
Main Components :
Motherboard :
AOpen Ax6BC Pro
I've had this motherboard for years and it used to be the basis of my "main machine" back in the day, along with a Celeron 300A from memory...
You will notice that the CPU Holder is missing one of the arms - it broke years ago, so the first thing I needed to do was replace the cpu holder with something that would properly retain the Slot 1 CPU. Luckily I had rescued a CPU holder from an old dell machine with a faulty m/board. I set about removing the old broken holder and replacing it with the "new" one in all of it's lovely bold green glory...
Ram :
512 MB SDRAM (2x128MB & 1x256MB)
Decided to populate all 3 memory card slots with 2 chips of 128MB BGA Kingmax Memory and 1 fairly generic 256MB SDRAM chip. The Kingmax ram was considered to be a premium ram at the time and I remember reading rave reviews about it back in the day...
CPU :
Pentium III - 500MHz
A fairly conservative choice here - more dictated by what I had on hand in a Slot 1 configuration, but still a very capable CPU for this machine.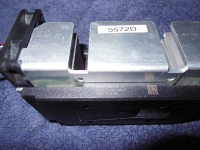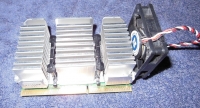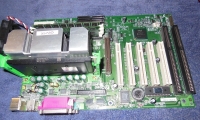 More to follow......